29 Mar 2015
This year we were proud to announce that our school was selected to present at the 2 day Regional Conference for Inspire Innovate.
Inspire Innovate was held at the ANZ Stadium at Sydney Olympic Park, Homebush, Sydney for the Inspire Innovate: Leading Innovation and Change Conference Series. This two day conference embraced the theme of "Leading Curriculum Change" and delivering an outstanding professional development opportunity for educators, by educators, to enhance pedagogy and quality curriculum implementation K-12 and enrich the capacity of principals and aspiring leaders to lead innovation and change in their schools.
There were over 570 delegates that attended. Our school showcased how SOLE - Self Organised Learning Environments and PBL - Project Based Learning was being effectively embedded into our school. This saw students building reading nooks, developing environmentally clean strategies and working with the community.
What do our students think about SOLE and PBL?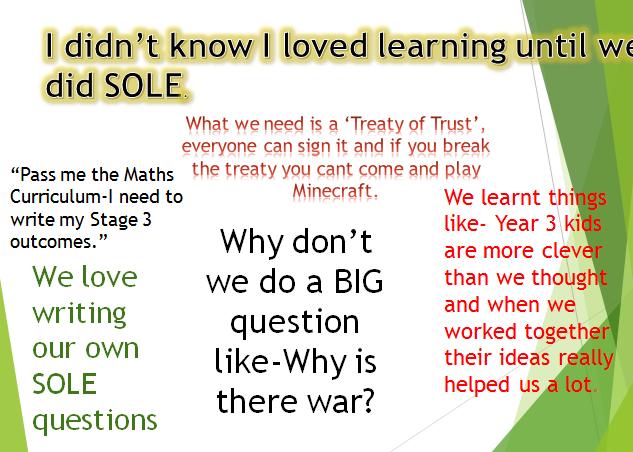 The feedback was positive with more schools wanting to visit here and see the great and inspired learning happening right here at Fairfield West Public School.
Congratulations Ms Pulbrook, Mrs Vette-Welsh, Ms Mandow, Ms Isaac and Mr Prasad for a fantastic presentation.
Check out our SOLE website by clicking on the picture below: